"WELLNESS in a BOX"
PREVENTION OF DEPRESSION & PEER LEADERSHIP PROGRAMME
A Global Grant Project By The Rotary Club Nagpur and Rotary Club of Naples, Florida, USA (2021-2024)
The Director of the project is Rita Aggarwal from Rotary Club of Nagpur. Bob Anthony from Rotary Club of Naples is the primary contact.
The project is assisted by a dedicated team of Rotarians from Rotary Club of Nagpur, coordinated by Namita Sharma. Shri Tanveer Mirza, Director YBS, an NGO is also our partner besides The Tirpude College of Social Work, Nagpur.
The objectives for this project are:
a) Increasing awareness of depression and its prevention.
b) Development of peer leaders among students.
c) Using mental health awareness as a means of combating stigma.
d) Enhancing prevention by building resilience among students.
e) Ensuring early recognition of stress, anxiety and depression.
f) Stimulating simple and practical interventions within the community.
g) Developing an understanding of the protocol for referral in 5 school communities and, essential with COVID 19, making both live counseling and tele-therapy available for school students.
h) Building professional capacity within schools by providing approximately 20 teachers with tele-training and live practical training to earn a full year Diploma in School Counseling.
The beneficiaries are:– Approximately 2000 students of Std 8 aged 14 years (100% students of std 8 will be taken in each school)
– Their parents
– Approximately 50 faculty and staff of 5 schools
– Approximately 20 teachers whom will earn the Diploma in School Counseling
– The Tirpude College of Social Work, which benefits by training teachers for an additional diploma program and by gaining five sites to place other students for supervised field work.
The proposed Project will involve teaching all the students of 8th standard, aged 14, about depression and suicide following a curriculum that focuses on how to identify symptoms, seek help, and develop coping skills. The curriculum will be taught to teachers and selected peer leaders to encourage ongoing conversations about mental health and coping strategies. Involving peer leaders in co-facilitation with adults is helpful, as the peer leaders truly understand these skills themselves, and learn how to teach these skills to younger students. When the activities of these teen leaders are integrated into the school and community settings, it fosters increased awareness, decreases stigma, and creates a network of teen and adult gatekeepers that will be able to promote early identification. The impact of the global pandemic has further fueled the need for immediate prevention and intervention efforts focusing on depression. COVID-19 has increased the risk factors (e.g., isolation, loss) related to anxiety and depression among youth. Due to closure of schools and social distancing, a higher incidence of anxiety and overall emotional distress is being reported by teens. In this project we will focus on all the students of Std 8 (14 years of age), because the age of onset of biological maturity has decreased. We believe starting as early as 14 years of age will help in targeted early prevention and intervention efforts, rather than addressing students when they are 15 years of age, a high-risk time because of already developed symptoms, according to Indian statistics.
The project is being implemented in phases.
Phase 1: The one- year Diploma in School Counselling was launched in November 2021 in collaboration with Tirpude College of Social Work. The curriculum was designed with inputs from Dr. Nadja Reilly, Clinical Psychologist, USA, Rtn. Bob Anthony and Rita Aggarwal, Consulting Psychologist and the Principal Dr. Swati Dharmadhikaris. It is the first of its kind in Central India, aimed at building professional competencies for counseling for teachers and all graduates. Two teachers each from the five partner schools were selected for the Diploma. Total ten teachers have been sponsored by the Grant.
Phase 2: School Counselling Services: As the schools re-opened after two years of lockdown due to Covid, the school counselling services were initiated from July 2022. A Counselling Psychologist has been appointed for the same. She was introduced to the five schools and arrangements were made for her weekly visits to the schools. Students would be referred by teachers, parents and also self-referrals are encouraged.
Phase 3: Teachers Training Workshops:
The "Break Free From Depression" curriculum aims to increase knowledge about depression and suicide and increase confidence in the ability to identify it's sign and also build the skills to cope with it. The program aims at a holistic approach by training teachers and the parents and students of Std 8 of all the five schools. It is an interactive training with a presentation of a documentary followed by a lecture and group discussions. The teachers actively participated and it was visible that how attentive they were in the workshop from the quality of questions being asked by the teachers.
Phase 4: All the parents of Std 8 students are being trained on the same topic so as to generate awareness, remove stigma and enable them to recognize the signs and symptoms of depression in their children and refer them to the school counsellor.
Phase 5: All students of Std 8 are being trained in the same. The four- part module will be conducted in three sessions of one and half hour duration. This is an interaction workshop with documentaries, role-plays and question –answer sessions.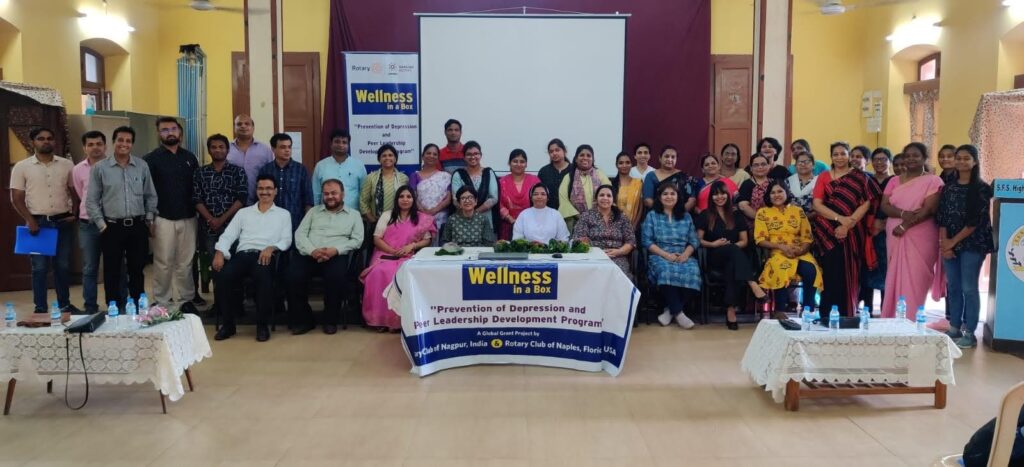 RI President Gordon McInally's visit to the Global Grant, Nagpur- 25 April 2023.